What is Opulous?
Opulous brings music copyright-backed NFTs and Decentralized Finance (DeFi) to the music industry. On the platform, artists can sell the NFTs and access up-front cash through the DeFi system.
Lee Parsons, Opulous founder, is also CEO of music distribution platform Ditto Music. So, this means that Opulous was introduced to more than 500k artists worldwide from day one.
Opulous is powered by two blockchains.
Ethereum blockchain
Algorand blockchain
The platform has three main products.

NFT Launchpad
NFT Launchpad enables artists to launch music copyright-backed NFTs.
Opulous NFTs offer buyers a share in the music copyright. They could generate monthly royalty revenues and increase in value as a musician's career advances. The royalty revenues come from music platforms like Spotify and Apple Music.
In addition, NFT holders can get rewards including backstage passes, gig tickets and merchandise by sharing music on their SNS platforms.
Opulous has the native $OPUL token. The token holders can receive special discounts across the platform and get exclusive access to major NFT drops.
NFT Exchange
NFT Exchange allows anyone to buy, sell and trade music copyright-backed NFTs. Currently, Opulous is developing its own Decentralized NFT Exchange.
Users can buy some NFTs of upcoming artists right from the starts of their careers and then trade them later for higher prices when the NFTs increase in value.
DeFi Loans
DeFi loans are backed by music assets and future royalties. Artists can fund their projects up to the value of the royalties generated over 12 months.
On the other hand, investors can generate returns by staking their cryptocurrencies.
The whole ecosystem is as follows.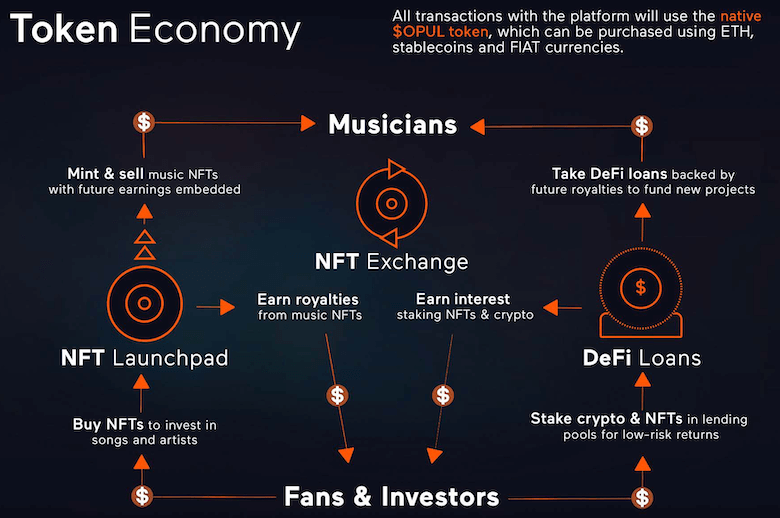 Roadmap
Opulous is in its early stage, so NFTs are sold on Republic's platform, not on the NFT Launchpad. Before the launchpad is open to all artists worldwide, many exclusive NFT sales will be launched.
The NFT sold by Opulous is called 'S-NFT', which stands for 'Security Non-Fungible Token'. S-NFT is registered as a security on the Securities and Exchange Commission (SEC).
According to the roadmap, Opulous will launch the DeFi component in Q1 2022 and the music NFT exchange in Q2 2022.

Twitter
Instagram
YouTube
Website
(As of December 25, 2021)